Estimated calls of cruises
With the reactivation of international cruise ships in Spain from 7 June 2021, the forecast of cruise ship calls in the Port of the Bay of Cadiz is published. We inform you that this forecast is subject to daily modifications.
May 2023
Nº
Vessel
Day call
Weekday
Length
Origin
Destination
First call
Consignee
Arrival time
Departure time
1
COSTA DIADEMA
02
Tuesday
305
FUNCHAL, MADEIRA
MALAGA
A. PEREZ Y CIA. S.L.
09:00
20:00
2
NORWEGIAN EPIC
03
Wednesday
329.45
FUNCHAL, MADEIRA
MALAGA
TUI ESPAÑA TURISMO SL
06:00
18:00
3
SILVER DAWN
03-04
Wednesday
212.8
MALAGA
LISBOA
MARITIMA DEL MEDITERRANEO S.A.
08:00
13:30
4
CELEBRITY REFLECTION
03
Wednesday
319
FREEPORT
CARTAGENA
BALEARES CONSIGNATARIOS S.L.
07:00
16:00
5
VALIANT LADY
04
Thursday
278
LISBOA
PALMA DE MALLORCA
BERNARDINO ABAD S.L.
09:00
22:00
6
OOSTERDAM
07
Sunday
285.24
CASABLANCA
LISBOA
CADISHIP S.L.
06:00
16:00
7
MEIN SCHIFF 4
07
Sunday
293.2
PALMA DE MALLORCA
LISBOA
TUI ESPAÑA TURISMO SL
07:00
17:00
8
STAR LEGEND
07
Sunday
159.1
SEVILLA
VIGO
BALEARES CONSIGNATARIOS S.L.
08:00
18:00
9
COSTA FAVOLOSA
07
Sunday
289.65
MALAGA
CASABLANCA
A. PEREZ Y CIA. S.L.
08:00
18:00
10
OOSTERDAM
09
Tuesday
285.24
LISBOA
CASABLANCA
CADISHIP S.L.
10:00
20:00
11
COSTA FIRENZE
09
Tuesday
323.59
BARCELONA
LISBOA
A. PEREZ Y CIA. S.L.
08:00
16:00
12
AIDASTELLA
10
Wednesday
253.26
MALAGA
CARTAGENA
A. PEREZ Y CIA. S.L.
08:00
18:00
13
ROYAL CLIPPER
10
Wednesday
133.2
PORTIMAO
IBIZA
MARITIMA DEL MEDITERRANEO S.A.
08:00
19:00
14
VASCO DA GAMA
10
Wednesday
219.21
CASABLANCA
BARCELONA
MARITIMA DEL MEDITERRANEO S.A.
10:00
18:00
15
SEADREAM II
11
Thursday
104.8
MALAGA
SEVILLA
LAMAIGNERE SHIPPING S.L.
09:00
16:00
16
ARVIA
11
Thursday
344
BARCELONA
SOUTHAMPTON
CADISHIP S.L.
06:00
18:00
17
CELEBRITY INFINITY
12
Friday
294
GIBRALTAR
LEIXOES
BALEARES CONSIGNATARIOS S.L.
08:00
22:00
18
SEVEN SEAS SPLENDOR
14
Sunday
223
CASABLANCA
LISBOA
TUI ESPAÑA TURISMO SL
08:00
18:00
19
COSTA FASCINOSA
16
Tuesday
289.58
MALAGA
VALENCIA
A. PEREZ Y CIA. S.L.
07:00
17:30
20
SEA CLOUD SPIRIT
16
Tuesday
125.7
GIBRALTAR
PORTIMAO
A. PEREZ Y CIA. S.L.
08:00
19:00
21
SPIRIT OF DISCOVERY
17
Wednesday
236.71
BARCELONA
DOVER
A. PEREZ Y CIA. S.L.
08:00
17:00
22
MEIN SCHIFF 2
17
Wednesday
315.7
MALAGA
GIBRALTAR
TUI ESPAÑA TURISMO SL
08:00
19:00
23
DISNEY DREAM
17
Wednesday
339.8
LISBOA
MALAGA
Sí
TUI ESPAÑA TURISMO SL
09:30
18:45
24
ARCADIA
18
Thursday
285.11
SOUTHAMPTON
VALENCIA
CADISHIP S.L.
07:00
20:00
25
LE CHAMPLAIN
19
Friday
131.46
MALAGA
LISBOA
MARITIMA DEL MEDITERRANEO S.A.
07:00
22:00
26
CELEBRITY INFINITY
19
Friday
294
LEIXOES
MALAGA
BALEARES CONSIGNATARIOS S.L.
08:00
20:00
27
COSTA FAVOLOSA
20
Saturday
289.65
MALAGA
LISBOA
A. PEREZ Y CIA. S.L.
07:00
16:00
28
MARINA
21
Sunday
239.3
MALAGA
LISBOA
TUI ESPAÑA TURISMO SL
07:00
18:00
29
OOSTERDAM
21
Sunday
285.24
CASABLANCA
LISBOA
CADISHIP S.L.
06:00
16:00
30
OOSTERDAM
23
Tuesday
285.24
LISBOA
CASABLANCA
CADISHIP S.L.
11:00
19:00
31
RIVIERA
24
Wednesday
238
BARCELONA
LISBOA
TUI ESPAÑA TURISMO SL
07:00
18:00
32
ARVIA
25
Thursday
344
BARCELONA
SOUTHAMPTON
CADISHIP S.L.
06:00
18:00
33
COSTA FASCINOSA
26
Friday
289.58
MALAGA
LISBOA
A. PEREZ Y CIA. S.L.
07:00
17:30
34
VASCO DA GAMA
31
Wednesday
219.21
MELILLA
A CORUÑA
MARITIMA DEL MEDITERRANEO S.A.
08:00
18:00
Touristic Cruises Ships and Cadiz
The Bay of Cadiz Port is located in the surface area Mediterranean-front Atlantic, close of the strait of Gibraltar, with a privileged geographical situation between the Atlantic and the North of Africa for what camer being a regular port of call for cruise vessels yearly in its transfer between the Mediterranean and the Caribbeean and vice versa.
But not only for their geographical situation is Cadiz an elected destination for that ships, but rather the city, their country and the vicinity to other tourist centers in Andalucia have wakened up the interest for several companies that have included Cadiz like habitual scale at their cruises in the Mediterranean, making night in our port, because the fun possibilities that the city and its environment offer it is so wide and varied that is extremely attractive for the visitors.
Geographical Situation
Since it is possible to see in the specific chapter, the Port of Cadiz Bay has a geographical situation favoured between (among) the Atlantic Ocean, the Mediterranean and the North of Africa. Ideal so much as intermediate point of scale as head or end (purpose) of itinerary, done that allows him (her) his (its, her) unsurpassable accesses, so much as intermediate point of scale as head or end (purpose) of itinerary, done that allows him (her) his (its, her) unsurpassable accesses, so much for terrestrial route (highway or railroad)like air (airport of Sherry to 40 km. and airport of Seville to 120 Km.).
Setting
The relationship between Cadiz and the sea has always been special. The fenicians navigators founded it 3.000 years ago, they received their splendor for the ocean after the discovery of America and this identification with the sea t is also manifested in the artists, in the parties, in the gastronomy and in all the facets of the life.
Disembark in Cadiz means to enter in a city with 3.000 years of history, Cadiz, the most ancient city in the West, with a hospital and open character; a monument in itself.
In the trade there are magnificent reproductions of the archaeological discoveries and more emblematic areas of the city; paintings, engravings, miniatures, hand-operated realized dolis, handmade jeweler's and fashion in dressing, shoes and skin acticles. You can pay with credit card.
In addition, the province has a tourist offer that is difficult to beat (top quality golf couses1, the route of the white villages, the Jerez and Bajo Guadalquivir areas and the beaches on the Cadiz coastline, to know the Moorish towns, the art of the Carthusian horses, the flamenco and the brave bull, the seafaring towns as well as the essence of the sherry wine or the white towns), and where the visitor can find high quality services of renowned prestige. Next, there are a lot of trips that fulfil all the above:
The catehedrals of the wine
Harold Lloyd, Liz Taylor, Wool Turner, Orson Wells or Steven Spielberg has come closer until Jerez to Know its cellars, attracted by the prestige of its wines and the historical elegance of the buildings. The visit finishes in all them with a tasting. The cellars are just to half hour from their cruise. it you are in the Bay of Cadiz Port, visit them.
The art of the horses
If you have not seen dance the Carthusian horses, you shpuldn´t lose the occassion ). Visit Jerez and the Real Andalusian Equestrian Art School. The Real School is devoted to the formation of horsemen and to the breeding and improvement of the Carthusian race horses, one of the most beautiful horses in the world. Besides of, they offer its show "How they dance the Andalusian horses."
Searching the brave bull
The brave bull is so near to your cruise that neither you imagine it. It is very tempting to contemplate them in the field and in an amateur bullfight from the barrier. You can know how the is day by day in an Andaludian farm, to enjoy with a lunch and to take advantage of the opportunity to appreciate how they are raised and they are selected.
The route gives the white towns
Under this denomination we refer to an itinerary that begins in Arcos de la Frontera and it lapses for ubrique, Grazalema, Zahara de la Sierra and Setenil, among other towns. Some towns so white as different, so much that if Arcos distribute their houses in the high thing of a rock, Setenil take a whole mountain for roof. The architectural show doesn't leave impassive to anybody. As much in Grazalema as in Ubrique you can visit one another handmade centers and to buy blankets and skin articles.
For the Moorish path: Medina and Vejer
Visit Medina Sidonia and Vejer de la Frontera is to go for a walk among the purest style of the Andalusian Arab architecture. Narrow streets, small squares, walls and castellations reveal their very old origin; both towns, declared artistic historical groups allow to combine the visits guided with the purchases of artisans products, especially cermic in Vejer and sweets in Medina, since this city was the confectioner capital of th Arab world. One of the illustrious vivitors of Vejer was J.F. Kennedy who visited the town in 1954.
From green to green
From the blue to the green: the Bay of Cadiz Port offers he possibility to navigate and to give the best blow. It takes just twenty minutes from your vessel to arrive to international prestige golf. headquaraters of tournaments like the Volvo Masters and in 1997 the Ryder Cup. Numerous fields wait you to play where the best play.
The sailors give the Atlantic
No more than half hour to the north of the capital of the province is located El Puerto de Santa Maria and then Sanlúcar de Barrameda, ideal towns for those that want to taste the most exquisite seafaring kitchen, to know its castles and palaces and its famous cellars, located in front of the National Park of Doñana.
Other emblematic cities in Andalusia and with much tourist tradition as Seville, Ronda or Cordoba. All of them can be visited from our port.
Harbour installations
The usual berthing point for the cruises vessels is integrated in the urban centre of the city. The distance from the passanger terminal to the neuralgic city centre is hardly 5 minutes walking.
These are some services that the Port of Cadiz Bay offers to all the ships that berth in its quays:
12/13 metre draught piers in low tide and 800 metres of linear berthing, provided with defenses and bollards.
Big parkings for buses and taxis.
Facilities for fuel, water and food supplies and electric installations.
A dry dock for repairs.
Emergency or waiting areas for berthing.
Waste removal services.
A passenger terminal provided with public telephones, police, taxis and press.
Cruise Terminal
The cruise terminal situated alongside Alfonso XIII pier, offers cruise passengers a safe and comfortable welcome to Cadiz. After recent expansion it offers 1300 m2 in which you can find an open-plan hall with check-in desks, disembarkation area, luggage storage area, tourist information desks where passengers can obtain maps of the city, free Wi-Fi zone, delicatessen and souvenir shops among other services.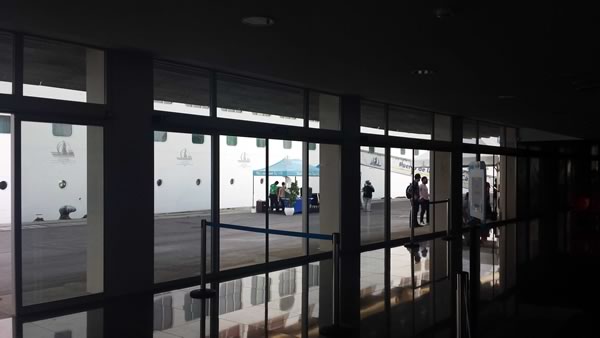 Accesses are controlled by security staff working alongside state security forces: civil guard, border police as well as the port police. The port installations comply with the ISPS code and European legislation. This specific additional security is highly valued by the shipping companies.
The port has a large parking area, adjacent to the terminal, for organized tours with capacity for more than 16 buses.
The city center is only five minutes walk from the cruise terminal, offering a wide variety of restaurants, shops, boutiques, monuments and museums. Outside the terminal you can find a taxi rank and close by the local tourist busses.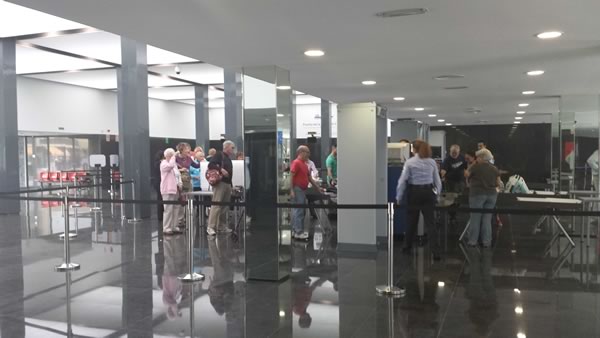 There is another CRUISE TERMINAL located in the Ciudad Pier that receives the ships of cruise that dock in this pier. This infrastructure receives the cruise passengers in a comfortable way, with direct access to the city through the Paseo de Canalejas and the Plaza de San Juan de Dios. The terminal has an area of 420 square meters and like the one located on the Alfonso XIII pier has free wi-fi connection.
Viability as Cruise Home Port
Viabilidad como Puerto Base de Cruceros
20.75 MB
Cadiz Cruise Destination Folder
This brochure has been edited by Andalusian Tourism Office and Suncruise Andalucia Asociation. Its aim is to promote the port, the city and the province between the main companies and tour operators.
Cadiz cruise destination
3.20 MB
Passengers Rights
Regulation (EU) 1177/2010 establishes the rights of passengers travelling by sea and by waterways, these rights include unbiased treatment and free assistance to individuals with handicaps or reduced mobility, financial compensation for lost or damaged mobility equipment, and passenger information and compensation or assistance in case of cancellation or delay.
Summary of provisions concerning the rights of passengers when travelling by sea and inland waterway.
Regulation (EU) No 1177/2010 of the European Parliament and of the Council of 24 November 2010 concerning the rights of passengers when travelling by sea and inland waterway and amending
Regulation (EC) No 2006/2004
At Reina Victoria pier in Cadiz-City Basin, there is a metropolitan maritime station from Cádiz, that attends to the passengers between Cádiz, El Puerto de Santa María and Rota, with modern catamarans. It has it access from Sevilla square and it is five minutes walking from the center of the city.
Total Area: 1.242 m2